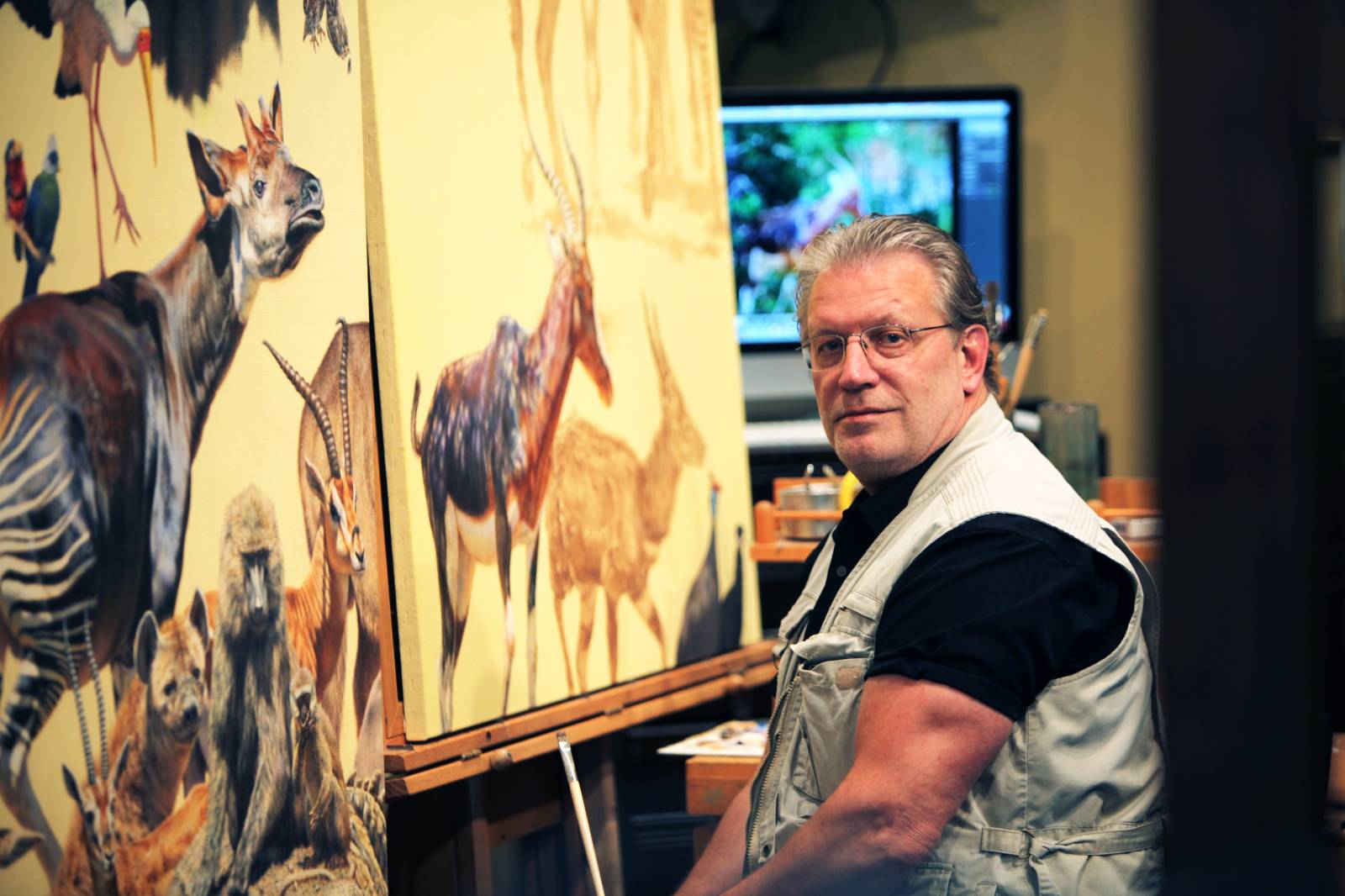 Grand Rapids Painter Attracts International Attention For Unprecedented Artwork Soon To Travel In Major Museum Exhibition and Be Featured In Collectible Coffee-Table Book
by Todd Wilkinson
Brian Jarvi's studio along the shore of Lake Siseebakwet (Sugar Lake) is a long, long way from both the Vatican and Madrid's famed Prado National Museum.
While Grand Rapids wildlife artist was born almost five centuries after Raffaello Sanzio da Urbino and Heironymus Bosch, his new monumental painting that stretches 28 feet across is earning comparisons to the works of those giants of the Renaissance.
Jarvi's epic, "African Menagerie: An Inquisition," features only 200 different African mammals and birds displayed across seven interlocking panels.
Consider: in one part of this grand scene, a giraffe towers near a large bull elephant; nearby, an endangered mountain gorilla and chimpanzee stand in the vicinity of an imperiled rhino, lion, leopard, and Nile crocodile.
It would take a person hours to try and identify all of the species. By design it is intended to stir awe in the viewer. So jaw-dropping is it in scope, scale, and impact that many believe it may be unprecedented in the entire history of nature art.
For more of the story, visit the Reif Center in Grand Rapids, MN tonight for the Unveiling of Brian Jarvi's African Menagerie and be on the look out for the fall issue of Lake Time Magazine for the rest of this article!